ANA and Project Firstline Partner to Equip Nurses with Vital Infection Control Education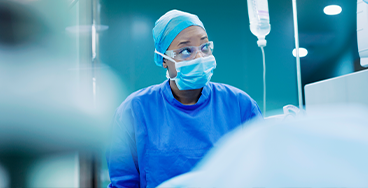 The American Nurses Association is one of the multiple partners who are working together with the Centers for Disease Control Project Firstline Collaborative. The project involves a group of healthcare and public health partners working to provide innovative and effective infection control training for public health workforces.
ANA represents the nation's 4.3 million nurses, working to advance the profession through advocacy, fostering standards of practice, and promoting a healthy work environment for the well-being of nurses. The organization was invited to join Project Firstline due to the monumental role nurses play in all aspects of patient care and infection prevention education.
"Project Firstline has given us the opportunity to take the lead on providing standardized infection control education for the entire nursing community," said Kendra McMillan, a Senior Policy Advisor for ANA. "We draw on the expertise of nurses to improve IPC (infection prevention and control) education and practices."
McMillan said being able to provide standardized IPC education is crucial because the onus doesn't just fall on one member of the healthcare team. The CDC has packages of materials that they've been releasing and sharing with nurses. In addition to that, the ANA has created some modules for nurses as well that are based upon surveys assessing where gaps in learning are. McMillan said those surveys uncovered a need for standardization in regards to, healthcare-related injection safety, multi-dose vials, and hand hygiene.
"There's an overall need to standardize practice. Nurses were saying that IPC practices can vary based upon the setting they're in, who is on the healthcare team, and what type of clinical practice the nurses are engaged in," she said.
Travel nurses have long been used to fill gaps in critical areas as a result of staffing shortages but IPC education can help travel nurses and full-time salaried staff people be on the same page. The need for IPC education was something that was identified long before the pandemic or heavy utilization of travel nurses, though McMillan acknowledged it brought more attention to the need.
Project Firstline has allowed ANA to innovatively provide education for nurses, but also work in the clinical space through the administration of surveys. McMillan said one thing she's learned from surveys and hearing directly from more nurses is how they want to receive information.
"Nurses don't have a lot of time and so we wanted to make sure that the content we provide is broken down into a format that nurses prefer," she said.
McMillan said after surveying the workforce, they found the biggest barrier that nurses have identified to IPC practices is time. Nurses need so much support right now with staffing and a safer workplace. There's been an increase in hospital-associated infections since the beginning of the pandemic in 2020 and that strains already limited resources.
"The assumption is made that hospitals have the equipment that's needed to protect their staff and I think the pandemic showed us that there are gaps in that process," she said. "It just further highlights the need for coordinated infection control practices but also a coordinated distribution of resources for infection prevention."
She said there's an assumption that nurses in every setting know how to administer vaccines or utilize N95s, but the reality is there are gaps in knowledge without standardization. McMillan said the pandemic really shined a light on how more standardization is needed and why IPC practices should be taught in an accessible way, which is what Project Firstline is making possible. McMillan said education can do more than simply inform and provide new resources.
"We wanted to make sure that nurses had a strong understanding of protocols that need to be followed," she said. "Education can also go a long way in giving nurses the confidence in their ability to understand, implement and follow those protocols."
Knowing that nurses are strained for both time and staffing is why IPC training is provided in longer modules where nurses can log into them and access the information on demand. Nurses can obtain continuing education credits for that as well. The educational modules is a combination of quick videos, articles, and a repository of over 200 resources that have been curated for nurses to access as they need them.
McMillan said for a long time, ANA's education was centered on advocacy, fostering a healthy work environment, and improving the well-being of nurses. Now, with the help of Project Firstline, ANA is able to provide practical education to apply to clinical practice. ANA has learned a lot from the experience of working with the CDC's project firstline. For starters, everyone has a role in infection prevention, not just nurses or physicians. McMillan said one of the lessons she's learned from the work is how much everyone is impacted by gaps in standardization.
"We're all affected by the breakdowns in IPC practices, all of us, not just the patients or clinicians. There's also the importance of understanding the value of proper IPC practices for the mitigation of risks. It plays a vital role in quality and safety," she said.
ANA is moving into year three of the project and working on planning its next steps. Some of that includes exciting new modules that will be released over the course of the next couple of months. McMillan encourages people to sign up for their listserv so they can get updates in the monthly newsletter on resources being added to the site. ANA is also planning another Project Echo session in August 2022.
Project Echo is an all teach all learn model allowing participants to learn through case-based learning and dialogue. All of this is happening through dialogue. Project Echo can be eight to ten sessions where nurses have about 25-minute didactic sessions where they're getting clinical content and information. Then there are case studies that are presented and nurses have to dissect that case study, which is submitted based on the real-life experiences of nurses across the country.
ANA has been able to utilize nurse subject matter experts who are knowledgeable about infection control, prevention, and education. McMillan said they've used this model to teach nurses about IPC practices, identification of risk, and mitigation.
"Education never stops and Project Firstline is here for the long haul to support IPC education and practice needs for nurses and the healthcare community," McMillan said.
ANA is one of many organizations that have partnered with Project Firstline. To see more of the work ANA has done with the project you can visit their website. To learn more about the project, check out the CDC's page complete with tools and resources.